This new, critically acclaimed solo play (Felix Pire's third full length solo performance work) brings together the L.A. Ovation and New York Outer Critics Circle Award winning team of Pire and Reyes in a brand new show that travels six hundred years into the future!
Taking us on a "hologram" tour of sad human characters of the "past", a futuristic priest creates a "techno-ritual" through the use of multi-media projections and character transformations, that explains to us what humans "used to be like in the past" before the compulsory ritual lobotomy you will receive…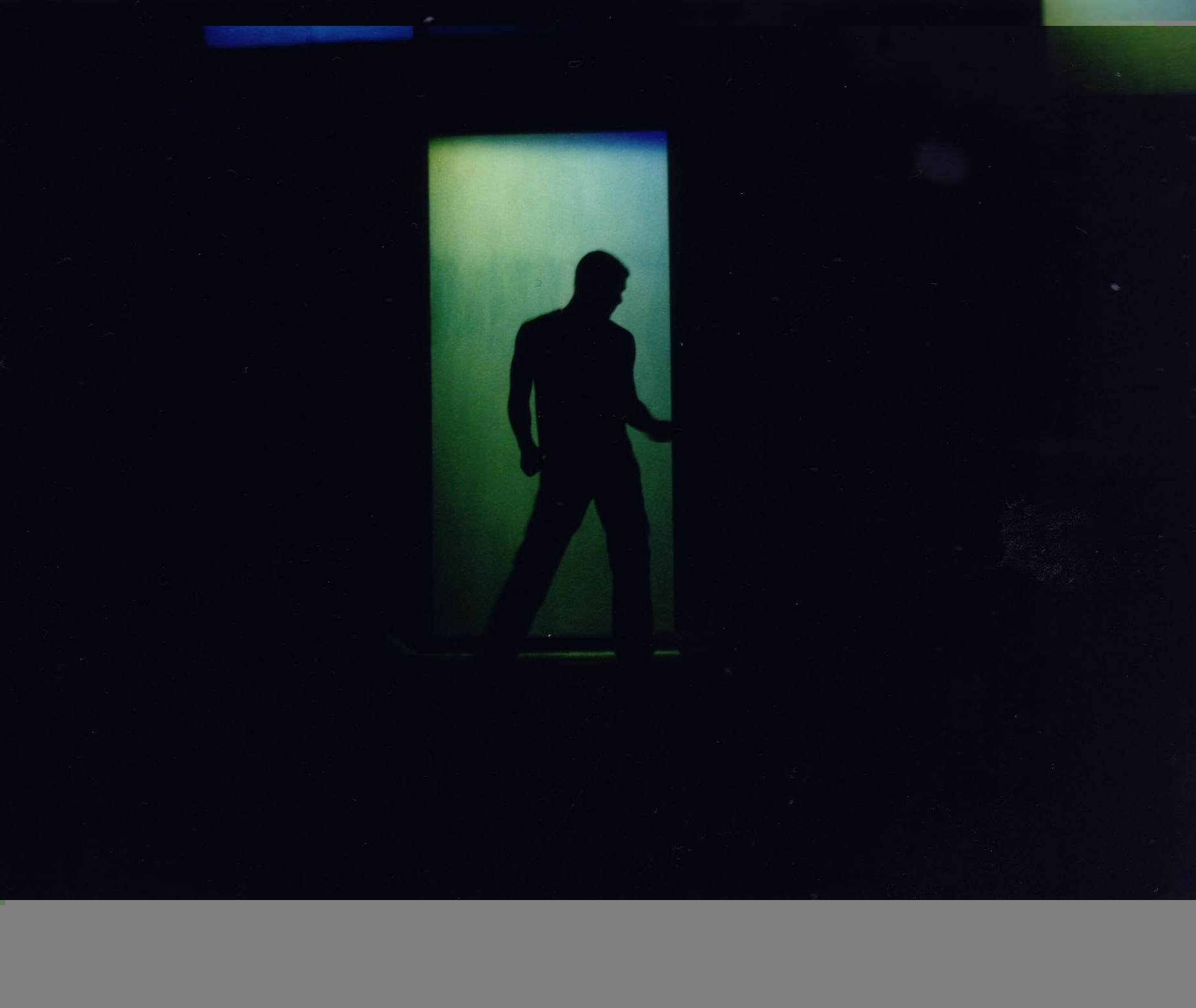 The future is Orwellian, satirically funny and deadly, as Reyes depicts it.
The world is run by an authoritarian Big Brother-like dictatorship, headed off by the descendants of Elian Gonzalez (the Cuban boy at the center of the internationally news-making, heated custody and immigration battle in 2000 involving Cuba and United States).
A few world wars later, humanity has entered its inevitable cybernetic future, where you must participate in this theatrical experience as part of having your intuitive frontal lobe removed.
Only through your ritual lobotomy will you reach a state of "Infantilism", a feeling of total childlike bliss (which doesn't require thinking), consecrated by the motto of the future: "Don't worry, be happy."
This elegant, sci-fi premised play, is laced with political satire, laughingly pointing to the danger of technology substituting for human communication.
PRODUCTION HISTORY
A one-night only performance on Broadway's THEATRE ROW stages at the United Solo Theatre Festival on Halloween night, 2011.
The play was produced in its entirety at the Avery Schreiber Theatre, North Hollywood, California in the summer of 2010.
In May of 2009, the play received it's second workshop production at Urban Stages, Off-Broadway in New York City.
It was first workshopped in 2007 at the Diavolo Dance Theater in downtown Los Angeles.
Stage Design & Choreography: Garrett Wolf
Creative Consultant (Acting/Directing): Debra DeLiso
Producer: Garrett Wolf
Artistic Director/Executive Producer: Jaques Heim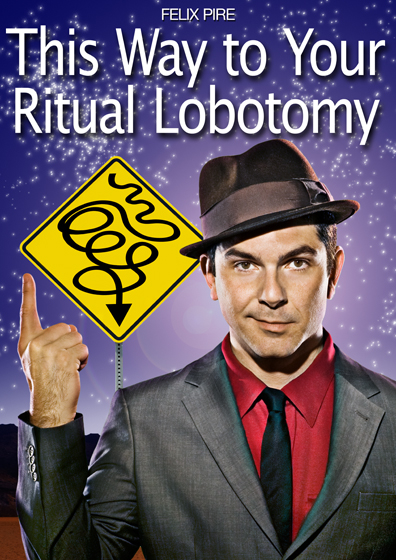 PRESS RELEASE
L.A. Ovation & New York Outer Critic's Circle-winning actor Felix Pire returns to L.A. stage with This Way To Your Ritual Lobotomy, a multi-character one-man comedy.
Guillermo Reyes, Playwright • Paul Storiale, Director • Emrhys Cooper, Producer
Hollywood, California; June 6, 2010: Reprising their award-winning combination, actor Felix Pire has signed on to portray more than a dozen characters in a new solo play written by Guillermo Reyes, who penned their first collaboration, Men on the Verge of a His-Panic Breakdown.
They are joined by award winning director, Paul Storiale (The Columbine Project) at the Avery Schreiber Theatre in the NoHo Arts District of Los Angeles.
After the success of Men on the Verge… Off-Broadway at the 47th Street Theatre, formerly the Puerto Rican Traveling Company, Pire e-mailed Reyes. "I said, if I'm Lily Tomlin, you're my Jane Wagner, get to work! … I began to e-mail him and perform characters over the phone, which populated the world of a new play. I also made mention – and Elian Gonzalez was big in the news then – that maybe I could play Elian Gonzalez all grown up. This set Guillermo going."
The surfacing of the play was not immediate. In the interim, Pire wrote his second solo play under fellowship at the Mark Taper Forum in Los Angeles, called The Origins of Happiness in Latin, and it won the 2000 California Community Foundation Brody Arts Grant. Not long thereafter, the Arizona Theatre Company awarded Origins their National Latino Playwriting Award in 2001, and produced it in 2003. The reviews led Pire Off-Broadway to Urban Stages, where the play was produced. Recently, for both his solo plays, the Off-Broadway theatre awarded him their 2009 Plaque for "Artistic Brilliance".
Now, Pire is eager to return to the Los Angeles stage. "I haven't performed in Los Angeles since Men on the Verge… in 1995. I'm excited to unleash this ritual upon the audience nightly," says Pire with mad gleam in his eye. He adds: "Anyone who dares show up and take part in the 'frontal lobotomy' is going to walk away from it having laughed their ass off. All of these characters are so wacky, strange and fun in a sick way. A futuristic priest who tells you why he's going to lobotomize the audience at the end of the ritual; an old Texas lady who teaches Erectile Dysfunction workshops? A terrorist writing love e-mails to Lady Gaga? It's absolutely preposterous, and yet the characters are so unique, that everyone empathizes with them!"
Set in a distant future and sometimes in our present, the play is a cavalcade of varying characters where Pire puts on display his talents as a mimic and an actor who can convincingly steer through electric characters without losing sight of their humanity.
Anita Gates in her Men on the Verge… New York Times review, wrote about Pire: " Felix Pire doesn't have a false moment in this glorious six-character, eight sketch, one man play by Guillermo Reyes, even while changing costumes. Just as the audience is filing him under 'talented but maybe limited to playing hunks', Mr. Pire shoves a cigar in his mouth and breaks your heart as a 60-ish owner of Paco's Cuban restaurant in Phoenix." The L.A. Times referred to his energy as a performer as that of a "human buzz-saw".
Pire's time twisting collaboration with Reyes moved into warp speed in 2007, when he performed a small workshop of the play at the Diavolo Dance Theatre space in downtown Los Angeles. He performed another workshop at Urban Stages in 2009.
"Los Angeles has a very lively tickle bone. In New York, people like to laugh and think. In Hollywood, people just like to laugh… and as an actor, I like to morph through characters speaking in organic poems, and through that, hitch the mind… Satire…" Pire, a veteran of the army of the Twelve Monkeys, directed by the sci-fi and fantasy master, Terry Gilliam, intuits that his next role might be in another science-fiction playing an alien, if this play is any indication.
While Reyes has been ensconced in a professor position at the Arizona State University, Pire has continued to play character roles in film and television. He has been seen in the films: Dear God, It's My Party, and most recently his turn opposite Oscar winner, Mo'Nique, in the film Phat Girlz. On Television, Pire has been seen on NYPD BLUE (ABC), Prison Break (FOX), The Rerun Show (NBC) and as a series regular on Matt Waters (CBS).
"This Way To Your Ritual Lobotomy is a ritual performance wherein a futuristic semi-cyber holy man shows you examples of humans from the past to put on display how horrible they were, how evil and mean, to convince the audience to have their 'ritual lobotomy' at the end of the play, when their frontal lobes will be removed and replaced with 'appetite enhancement chips' sponsored by Starbucks, Wendy's and Taco Bell," explains playwright, Guillermo Reyes.
"Felix is adept at transforming from one character to another and I was working on a few… But mid-way through the process he told me he wanted to incorporate e-mails from me into the play and although I thought that was strange, I'd seen Doug Wright's I Am My Own Wife, so I knew that convention can be done successfully. As it turns out, the character of 'Guillermo Reyes' in the play is the most real and the one you see most often. The audience bonds with him, and that's where we really see Felix at his simplest. As a regular guy; well, a version of me… This play is funny, yes, but it's also tender while balancing being a dark comedy about technology, so it has many levels," added Reyes. He includes passages from the play's monologues in his newly published book: Madre and I: A Memoir of Our Immigrant Lives.
Pire's facility for character comes not only from the wide range of roles he's played onscreen and is reinforced by the fact that he's moonlighted as professor of acting in film at UCLA in 2008-09, and has taught solo performance at the American Academy of Dramatic Arts in Hollywood for the past seven years; teaching others acting, he insists, helps him develop as an actor and helps keep him in touch with young audiences.
"I have seven years worth of students in the Los Angeles area, who have yet to see me perform a solo play. I feel like I owe them a chance to see their professor in a late-night comedy ritual playing totally whacked-out SNL-type characters. I mean, for one I'm in full drag giving out paper penises, and in another passing out small cups of 'poisoned' Kool Aid as a crazy killer cultist… Listen, I know college kids, and to them, that's a good time… I personally get a kick out of checking out who actually drinks the Kool Aid. I think I'll enjoy poisoning my ex-students and the audience nightly," quipped Pire.
This Way To Your Ritual Lobotomy procedures took place on Friday & Saturday nights @ 8pm throughout the month of July, 2010 at the Avery Schreiber Theatre, 11050 Magnolia Blvd. North Hollywood Arts District, California, 91601. Many people in the Los Angeles area are now walking around with lighter heads because of it.